How to reach the conference hall:
The link below shows a google map directions from the tram stop Valrose Université (Line T1) to the conference hall (Théâtre du Grand Château, Valrose) inside the University campus.
https://goo.gl/maps/mk5DEUamsC47MWNFA
Once inside the university there will be arrows guiding you to the conference hall.
If you are coming from the Hotel Villa St. Hubert (nearest tram stop Borriglione) / Hotel Monsigny (nearest tram stop Liberation) / down town/ Gare Thiers (train station) take Tram T1 in the direction Henri Sappia. People staying in hotel Villa St. Hubert and Hotel Monsigny may prefer to walk as well, as the Valrose University tram stop is ONE and TWO stops away, respectively. For those who are staying in the Faculty club the nearest tram stop is Vauban.
https://www.openstreetmap.org/?mlat=43.71709&mlon=7.26699#map=18/43.71709/7.26700
The conference will be held at the château de Valrosein the University of Nice Sophia Antipolis, Nice, France.
How to reach Nice ?
Nice Côte d'Azur Airport is an international airport providing connections to many European cities and international cities.
Nice railways station also well connected to major French cities.
How to join us in Nice ?
From the airport : There is an airport shuttle operating on a regular basis (every 30 min) linking the city center / railway station (6€ per trip)
From the city center / railway station : There are frequent trams from the city center or a 30min walk.
Location of the conference room ?
The conference room is located in the château de Valrose. The simplest way to reach campus is by tram (buy the ticket in the machine before getting in). The closest tram stop is "Valrose" (5 min). From the entrance follow the signs towards the top of the hill where the Château is.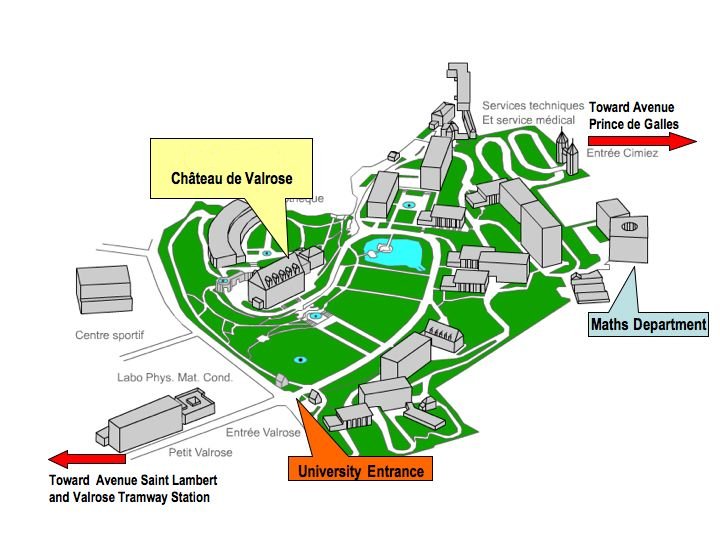 Accommodation
Hotel Monsigny, Nice
Address: 17 Avenue Malaussena, 06000 Nice, France
Tel: +33 (0)4 93 88 27 35
Hotel Villa St. Hubert
Address: 26 Rue Michel-Ange, 06100 Nice, France
Tel: +33 4 93 84 66 51
Email: contact@villasainthubert.com
Website: www.villasainthubert.com
Faculty Club UCA
Address: 22 route de Turin, 06300 Nice
Website: http://univ-cotedazur.fr/en/international/welcome-center/logement/faculty-club
Faculty Club is located close to tram stop Vauban. From the airport take express bus 99 to Gare SNCF and walk 200m to the tram stop (Gare Thiers). From there take the tram until Vauban tram stop. You can also take bus 98 until Place Garibaldi (last stop "Promenade des Arts") and combine with tram.
You will receive by email a code that open a locker containing the keys of your room. If it is not the case, please let us know.